T

O

B

O

R

Q

U

E

S

T
You play as the hero, TOBOR, as you brave the unpredictable campus terrain to become the most efficient robot in the Starfleet. Levels progress in a series of isometric-style platforming sequences where timing, planning and reflexes determine your success. Accept your delivery requests to get food to the masses in record time!
TOBOR Quest is the University of Texas at Dallas ATEC Game Lab's Fall 2022 project. I worked as one of the concept artists, creating art for the environment, characters, and props, as well as assets for UI/UX and the ending credit image.You can download the game here!
G

H

O

S

T

H

O

U

S

E
You are the ghostly inhabitant in a family's house. Explore this new environment while you uncover secrets about the family's past through investigation, interaction and dialogue sequences.
Ghost House is the University of Texas at Dallas ATEC Game Lab's Spring 2022 project. The game is a point-and-click narrative game developed by a team of roughly sixty student developers over the course of one semester. I worked as one of the environment artists and assisted in modeling, texturing, lighting, and asset population.You can download the game here!
S

O

D

A

S

H

O

P
Animal Crossing inspired shop with a combination of hand-painted and procedural textures.Concepting, modeling, texturing, and lighting done by me in Maya, Substance Painter, Clip Studio Paint, and Unity. The audio is not owned by me, and was taken directly from Animal Crossing: New Horizons.
C

L

I

C

K

P

I

T

C

H
(Soundless) Simple click pitch exercise following a real-life experience tabling at a convention.

At Journey's End is a 3D virtual environment depicting a fantasy adventurer's place of respite in the midst of one of their visits, designed with modularity in mind. (asset breakdown to right)This envrionment is a love letter to all of the games that have helped foster my love and passion for games. Though the majority of this scene is inspired by housing items featured in Final Fantasy 14, very few of them have retained any similarities with their in-game counterparts.
pre production
I knew from the start that I wanted to create an environment entirely on my own, from start to finish. I've done this a few times before so I knew that my process would involve a lot of reivsion as I worked, even after the pre-production phase. My initial plan was to create a two level, studio-like scene, but due to technical issues mentioned later, I had to heavily scope down.
process
I started out with my proxy/whitebox, blocking out the biggest assets to get a feel for the silhouettes. Even at this early stage, I was not very satisfied with all of the negative space in the rooms, but I continued to move forwards anyways.I started modeling with the foundation assets, building out the room with the walls and floors first. This first part took a little longer than I expected because I wanted to create a trimsheet since I knew there would be a lot of wooden assets in the environment. This saved me a lot of time!Then, comically, just a few weeks before the end of the semester, my Unreal 4 project file was corrupted in a power surge, so I lost a lot of progress. This happened between that second and third photo on the right, but luckily, the second time around, I reworked the floorplan and it felt a lot better to work on. This unfortunately forced me to severely cut down my project from the two story structure to just a portion of a room, but I was much happier with the layout of the second iteration.
Wood is one of my least favorite things to texture, but all of my favorite environment themes have lots of wood textures. Going into this project, I knew that would inevitably come up again, so I made a trimsheet at the start to save myself some work. I also wanted to challenge myself to create as few assets as possible while avoiding too much repetition. To the right are all of the unique meshes used in the project! All other items in the scene were made by combining existing meshes together and editing their texture maps.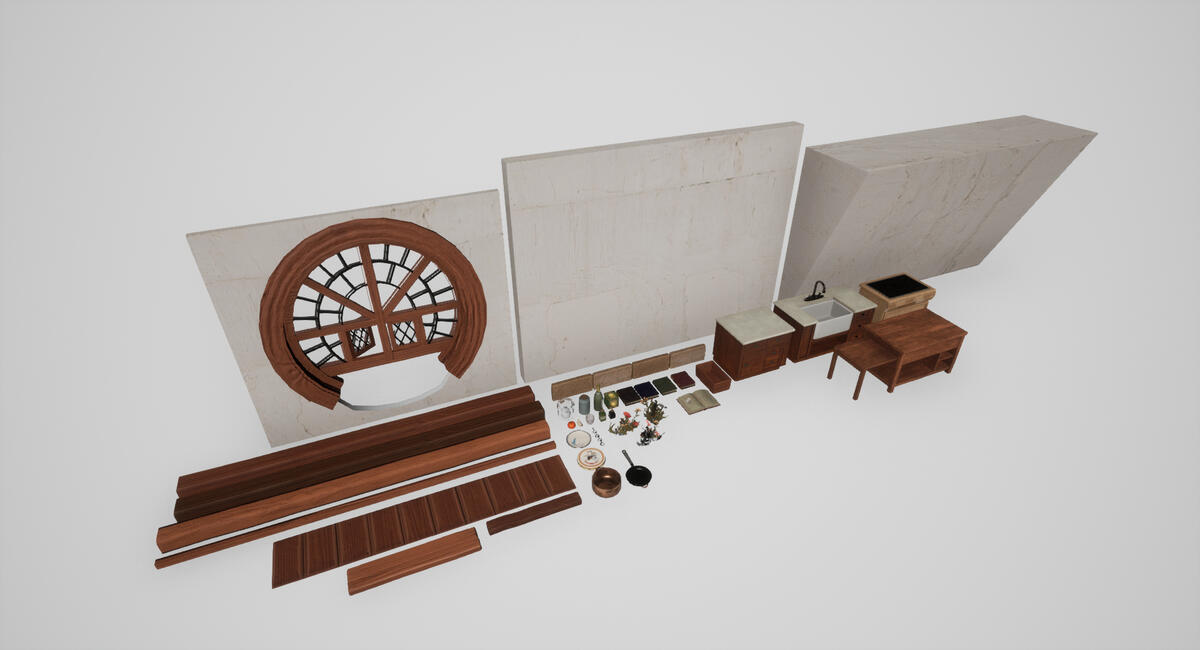 ---
I created all of the art and assets in this environment, including the photos in the frames so I just wanted to include them for fun!A lot of personal things came up this semester for me, but I had lots of fun with this project and I am ultimately happy with the outcome given the circumstances! Though I wasn't able to make a much as I wanted, I plan on finishing the entire space over the summer.
Yeon is a Korean American 2D and 3D artist currently attending the University of Texas at Dallas working towards a BA in Arts, Technology, and Emerging Communication (ATEC) in the Games Concentration.They strive to create art that evokes a youthful sense of nostalgia, coziness, and wonder that breaks up the monotony of everyday life.